Vaishno Devi Temple in the Trikuta hills of Jammu is one of the holiest pilgrimage destinations in India. Devotees in huge numbers come to get blessings of the Mother Goddess in her cave shrine. To make the yatra and darshan for pilgrims easy, a new service of Vaishno Devi ropeway (cable car) has been started.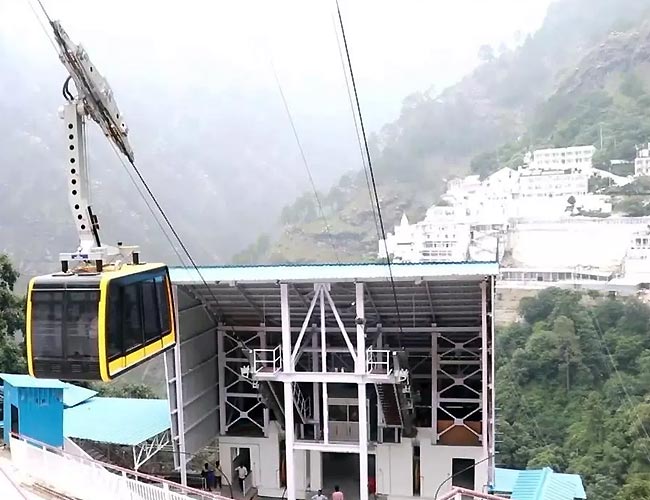 While on pilgrimage on Vaishno Devi, it is believed to absolutely necessary to visit the Bhairon Nath Mandir. Set a few kilometers from the temple it is known to be a tough trek. The new ropeway (cable car) system operates from the Vaishno Devi Bhawan to the Bhairon Baba Mandir. The challenging trek can now be covered in an aerial journey in just 3-5 minutes.
Now the holy yatra to the shrine of Vaishno Devi Temple has options of trekking,palkis, horses, helicopter and ropeway (Cable car).
Vaishno Devi Ropeway Highlights
Jointly built by the Damodar Ropeways Construction Pvt. Ltd. and Garaventa AG, Switzerland, the operations of the ropeway are under the Shri Mata Vaishno Devi Shrine Board Katra. The passenger ropeway can carry 800 people every hour. The bi-cable jig-back system is equipped with two fully enclosed spacious cabins that can carry 40 to 45 persons each in one go. The cabins have proper provisions for ventilation and also offers charming views of the panorama.
The ropeway comes as a blessing as previously not all pilgrims who booked Vaishno Devi yatra package could visit the Bhairon Baba Mandir due to the steep climb. Since the inauguration of ropeway the numbers will change as each devote would easily be able to complete the holy pilgrimage. The elderly and the specially-abled can use the service to complete their yatra.
Tickets for the ropeway are available at the Bhawan and can be booked instantly in the operational hours. Or, you can opt for Vaishno Devi Ropeway Online Booking
Vaishno Devi Ropeway (Cable car) Cost
The cost of the ticket for the ropeway ride is INR 100 per person one way. Vaishno Devi ropeway ticket booking can be done online or at the Bhawan directly.
COVID-19 guidelines to be followed during Vaishno Devi Yatra?
Online registration is mandatory before arrival in Katra.
From the 1st of November 15,000 pilgrims will be allowed to visit Mata Vaishno Devi temple per day
Wearing face masks will be compulsory in public places and during travel.
All the tourists should have the Aarogya Setu app installed on their mobile phones
Proper social distancing will be maintained and any group or gathering will not be allowed.
Registration for Vaishno Devi Yatra will be required to be done in advance via online mode.
It is advised not to visit any sacred place in Jammu and Kashmir if you are sick.
Senior citizens above 60 years, pregnant women, a person with comorbidities, and kids below 10 years are also advised not to travel to Jammu.
Route from Katra to Maa Vaishno Devi Bhawan?
Old Track – via Ban Ganga – Ardhkuwari – Sanjichhat – Bhawan
New Track – via Ban Ganga – Ardhkuwari – Himkoti – Bhawan
Latest Track – via Tarakote – Ardhkuwari – Himkoti – Bhawan