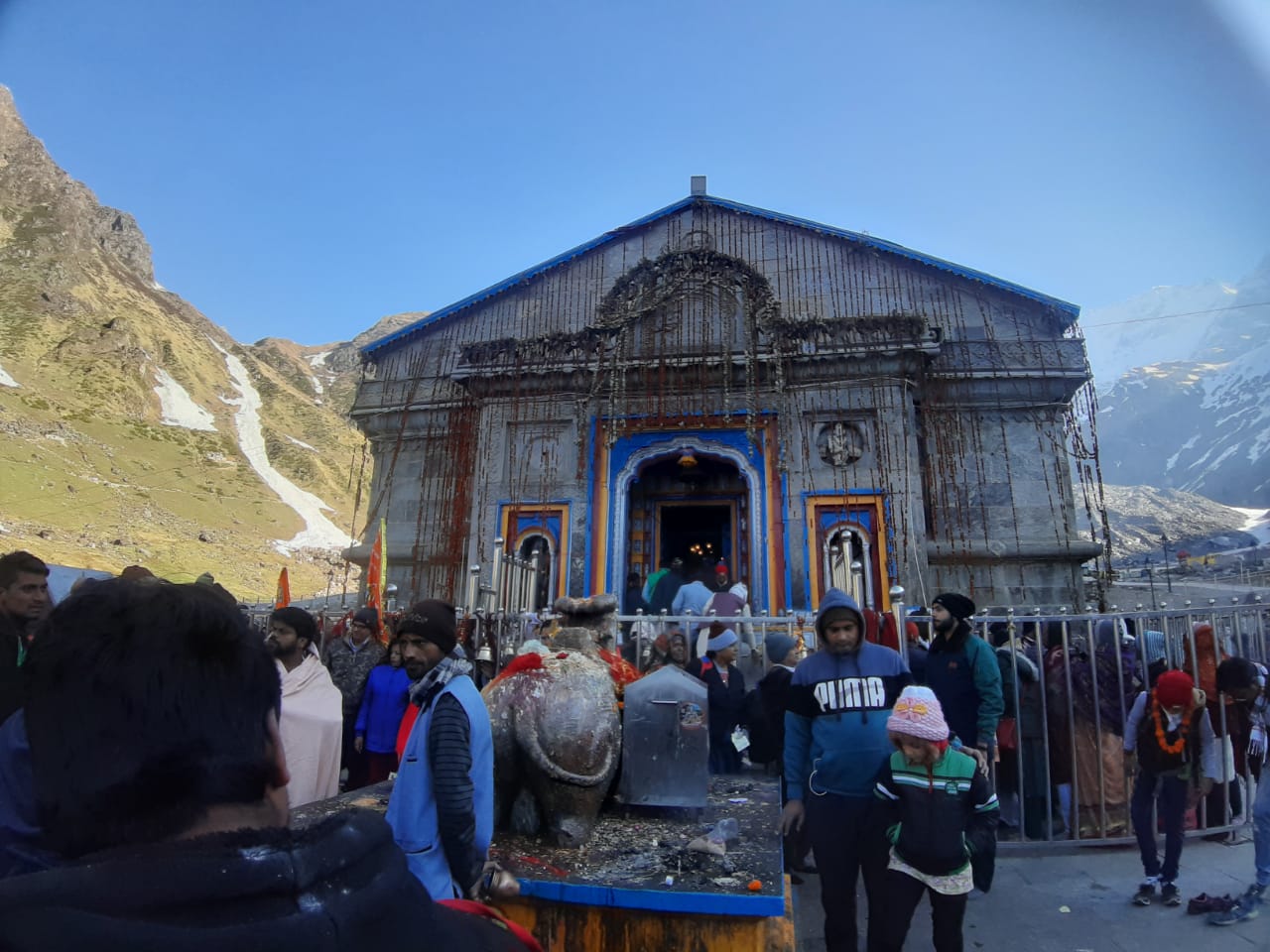 What is Chardham Yatra?
Chardham Yatra 2021 in Uttarakhand is a holy Hindu pilgrimage for char (four) revered sites in Garhwal Himalayas. These religious spots include Yamunotri- holy source of river Yamuna, Gangotri- the source of the holy River Ganges, Kedarnath- the abode of Lord Shiva, and Badrinath- housing the shrine dedicated to Lord Vishnu.
Significance of Char Dham Yatra?
The Char Dham Yatra is one of the holiest pilgrimages in Hinduism. Settled in the lap of Himalayas, the shrines are said to be the source of salvation from sins and the cycle of life.
Name of  Char Dham Temples?
The famous temples known as Char Dham Destinations are Yamunotri, Gangotri, Kedarnath and Badrinath. Yamunotri temple is dedicated to River Goddess Yamuna, the twin sister of Yama (Lord of Death). Gangotri temple is dedicated to River Goddess Ganga. Kedarnath shrine is dedicated to Lord Shiva. Badrinath temple is one of the holiest shrines of Lord Vishnu in the form of Lord Badri. We offer the online booking for Chardham Yatra which starts in the month of May 2022.
Explore our customized Chardham Tour Packages 2022
Opening / Closing Dates of Char Dham Temples 2022?
Char Dham Yatra opens during the first week of May closing by October – November.
The Yamunotri temple opens on Akshay Tritiya (3rd May) and closes on Yama Dwitiya (the second day after Diwali)
The Shrine of Gangotri opens on the auspicious day of Akshaya Tritiya. The temple closes on the day of Diwali festival.
The opening date of Kedarnath Temple is 7th May 2022 (Tentative date) and depends on the occasion of Maha Shiva Ratri and decided by priests in Ukhimath. The closing date of Kedarnath is 20th November 2022 on Yama Dwitiya (second day after Diwali i.e. on Bhai Dooj).
The opening date of Badrinath Temple is 8th May 2022 (tentative date) on Basant Panchami by Raj Purohit and closing date is fixed on Vijaydashami by Mandir Committee.
Darshan Timings of the Temples?
Badrinath Darshan & Aarti Timing
Badrinath Temple Visit Timing: 4:30 am to 01:00 pm and 4:30 pm to 09:00 pm .
Morning aarti at Badrinath Temple :  4:30 am to 6:30 am – Maha Abhishek; Abhishek Puja
Evening aarti at Badrinath Temple :  6:30 am to 12 noon and 3:00 pm – Ved Path; Geeta Path
Other Special Puja at Badrinath: Shrimad Bhagwat Saptah Path; Puja for the Whole Day
Kedarnath Darshan & Aarti Timing
Kedarnath Darshan Timing: 04:00 am to 03:00 pm and 05:00 pm to 09:00 pm
Morning aarti at Kedarnath Temple: 04:00 am to 7 pm– Maha Abhishek, Rudra Abhishek, Laghu Rudra Abhishek, Shodashopachara Puja
Evening aarti at Kedarnath Temple: 6:00 pm to 7:30 pm – Sahasranama Puja; Mahimna Stotra Path; Tandav Stotra Puja
Gangotri Darshan & Aarti Timing
Gangotri Darshan Timing: 6:15 am to 2:00 pm; and 3:00 pm to 9:30 pm
Morning aarti at Gangotri Temple: 6:00 am – Gangotri Mangal Aarti; Ganga Devi Puja
Evening aarti at Gangotri Temple : 7:45 pm in summer months and 7:00 pm in winter months – Sandhya Aart
Yamnotri Darshan & Aarti Timing
Yamnotri Darshan Timing: 6:00 am to 8:00 pm and 12:00 pm to 2:00 pm
Morning aarti at Yamnotri Temple: : 6:30 am
Evening aarti at Yamnotri Temple: : 7:30 pm
Age Limit for Chardham Pilgrims?
There is no fixed age limit for Char Dham Yatris. As the yatra will pass through high altitudes, and there is a lot walking therefore preferred age bracket is between 7-65 years of age.
Is Registration Required for Chardham Yatra 2022?
The Char Dham Yatra 2022 will require pilgrims to register with Photo I.D instead of the biometric registration that was proposed. There will be a thorough medical checkup of all pilgrims who wish to undertake 2017 Char Dham Yatra. The registration will take place at 18 Registrations Centers having more than 50 counters for pilgrims.
Procedure to Get Char Dham Yatra Registration 2022?
To get away from long waiting lines of offline/ manual registrations lines at counters, pilgrims can easily register online. Start the procedure to register for Char Dham Yatra 2022 in Uttarakhand, by filling up the Chardham Registration Form. A booking window will open up.
Fill in details like email, mobile number and carry one of Id Proof such as Aadhar Number, Voter ID number, PAN number, Passport or Driving License. Select the dates of visiting the particular destination as well. The online Chardham Yatra registration has a nominal fee of INR 50/- only.
After the successful registration, user will receive an online registration slip. User can take Registration Card/ Yatra Card directly from any of the counters by showing online registration slip.
Is Medical Certificate is Required for Char Dham Yatra?
Medical certificate is required for Char Dham Yatra as the route is through high altitudes and requires long hours of trekking. There will be a thorough medical checkup of all pilgrims to get registered Yatri passes for Charm Dham in Uttarakhand.
How Many Days Required For Chardham Yatra?

For Char Dham Yatra by road, a minimum of 10 Days is required while Yatra by helicopter reduces the time by half, that is, 4-5 days.
Best Route For Char Dham Yatra 2022?
The best route to complete the Char Dham Yatra, begins from Haridwar, proceeding to Barkot (Kharsali), where pilgrims can visit the Lord Vishwanath Temple. The first holy site is the sacred Yamunotri to pay obeisance to River Goddess Yamuna and get the blessing of Lord of Death and the Sun God.
Proceed to Uttarkashi and then to the sacred spot of the origin of River Ganga in Gangotri. Proceed to Guptkashi and then visit the sacred Kedarnath temple, the holy shrine of Lord Shiva. Later, journey towards Rudraprayag, proceeding to the divine abode of Lord Vishnu in the form of Lord Badri in Badrinath. After completing the Yatra, begin your journey to Joshimath and then Haridwar. This route covers most of the important shrines granting pilgrims, a complete yatra of spiritual bliss.
Nearest Airport?
Jolly Grant Airport in Dehradun is the nearest airport to the destinations of Char Dham Yatra.
Nearest Railway Station?
The closest rail heads from Chardham are Haridwar and Rishikesh. Buses, taxis and private cabs are easily available outside the station.
Best Way to do Char Dham Yatra?
Char Dham Yatra By Road – The well laid out network of roads make it possible to reach Chardham in a hassle-free manner. The road routes are available from Haridwar and Dehradun.
The road route to complete the Char Dham Yatra is Haridwar then Barkot (Kharsali) – Yamunotri – Uttarkashi – Gangotri – Guptkashi – Kedarnath – Rudraprayag – Badrinath and return journey to Joshimath going to Haridwar.
Char Dham Yatra By Helicopter –Chardham Yatra through helicopter starts from Sahastradhara Helipad (Dehradun), then Kharsali (the helipad for Yamunotri), moving on Harsil (Helipad for Gangotri), and Kedarnath Helipad, and then back to Sahastradhara Helipad. Pilgrims can not only save time, but also save the hassle of difficult treks and the unpredictability of weather in the high altitude of Uttarakhand.
Types of Accommodation is Available?
Ashrams, dharamshalas and lodge type of accommodation facility with basic necessities is available on the Chardham route.
Most Important Tips for Chardham Yatra

Few tips every Char Dham Yatri must know are:
While visiting the shrines and temples, remove shoes and cover head with a piece of cloth.
Carry woolen blanket, an umbrella, raincoat, torchlight, minimum luggage and canvas shoes. For clothing, it is necessary to carry woolen sweater, monkey cap, muffler, warm socks to survive the cold conditions in Himalayas.
Carry skin creams, moisturizers, and sunscreen.
Pack a medical kit with painkillers, antibiotics, cough tablets, Antiseptic cream, Iodine, tube-squeeze cream and medicines for cold and fever.
Carry your routine medicines, as you might find only limited and general medicine at such remote locations.
Carry dark chocolates, dry fruits, Glucose and toffees that will provide instant energy during the yatra.
Follow instructions on usage of cameras. If prohibited, do not hurt sentiments of locals.
Start preparatory exercises for the trip at least a month in advance before the Yatra.
Carry extra batteries and films for your camera, as electricity is not regular in such remote places.
Do not travel in the rainy season as there are a lot of landslides during that time.
Book hotel rooms in advance if you are traveling close to the temple opening dates, there is a heavy rush of pilgrims.
Alcohol or non-vegetarian food is not permitted during Char Dham Yatra Tour.
Drink packaged water or boiled water only.
Hire only a registered pony wallah or porter. Don't walk far away from ponies carrying luggage.
Don't relax at places where warning signs are fixed. Do not attempt short cuts on the route.
The most important tip for your yatra is to listen to your body. If you feel tired or unwell take a break from the yatra and continue only after feeling fit for travel.
Best Time for Char Dham Yatra?
The Char Dham Yatra in Uttarakhand starts in April-May and continues till October. Pilgrims can either embark the Yatra before July or after September. Monsoon is to be avoided for this pilgrimage as this route is high up in the mountains and rains can cause landslides.
Is Chardham Yatra Completely Safe Now?
Char Dham in fact the Kedarnath Temple has faced the gruesome flash floods in 2013. After the natural calamity the government has worked incessantly for pilgrims to have a safe and soulful journey. Measures have taken for the safety and comfort of Yatris. You can embark on the Char Dham Yatra 2020 without worries.
Places That You Can Visit?
On The Way to Yamunotri, Barkot, Hanuman Chatti, Saptrishi Kund, Surya Kund, Divya Shila are attractions to visit.
On The Way to Gangotri, the attractions to explore include Vishwanath Temple, Gangnani, Bhairon Ghati, Harsil, Gomukh Glacier, Bhagirath Shila and submerged Shivling.
On the way to Kedarnath, Kalimath the holy shrine of Goddess Kali, Guptkashi housing the sacrosanct Ardhanarishwara Temple, Sonprayag and Triyuginarayan are some attractions.
On the way to Badrinath, Chopta, Mandal Valley, Joshimath, Hanuman temple, Narshingha Temple, Yogdhyan Badri at Pandukeshar, Tat Kund, Brahma Kapal, Narad Kund, Bheem Pul, Vyasa Gufa and Ganesh Gufa are few attractions you must visit.
Rishikesh can be your stop for a day. The holy town on the banks of river Ganges has a number of yoga ashrams where you can practice harmony of body, mind and senses.
Haridwar, on the banks of River Ganges, full of ancient temples and holy ghats is also a great stop on this spiritual yatra.
Related Posts : –
Important Tips for Char Dham Yatra