Mount Kailash, since ages, is considered as sacred and one of the sought-after pilgrim centers in India to attain salvation. Among the India pilgrim tours, Kailash mansaroavar yatra is very popular and devotees from all across the globe book this package. There are numerous travel operators, who offer kailash mansarovar yatra by helicopter tour package for the devotees wanting to explore every bit of the trip but are time constraint.
The devotees could opt for the 10-day Kailash Mansarovar Yatra by Helicopter that would also allow them to make their journey auspicious with their visit to Mansarovar Lake, Pashupatinath temple etc.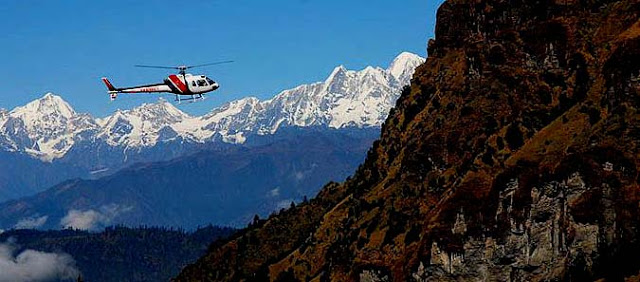 Trip Details : Here is the synopsis of the itinerary provided to give you an idea of day wise journey that you will travel through this Kailash Mansarovar Yatra By helicopter travel package.
Day 01: Arrival in Kathmandu
Upon arrival in Kathmandu and check in hotel, The rest of the day is at leisure. Overnight stay at hotel.
Day 02: Kathmandu sightseeing – fly to Nepalgunj
Enjoy this day in sightseeing tour in Kathmandu. Excursion to Budhanilkantha Temple, Pashupatinath Temple, and Baudhanath Stupa. Thereafter, reach to NepalGunj via flight. Overnight stay at hotel in NepalGunj.
Day 03: Nepalgunj – fly to Simikot
Board flight to reach Simikot. After reaching Simikot, you will be transferred to your hotel to enjoy an overnight stay.
Day 04: Hilsa by flight – Purang
Fly down to Hilsa. After arriving at Hilsa, take a small walk to reach Sher and thereafter, drive to Purang through the Japanese land cruiser. You will have an overnight stay at a guesthouse in Purang.
Day 05: Purang – Mansarovar Lake
Drive to Mansarovar Lake. Also visit the Rakshas Taal on the way to the Mansarovar Lake. The overnight stay will be at Tibetan Dharamshala or a guesthouse.
Day 06: Darchen to Dirapuk Trek
Reach Asthapad via Darchen. After sightseeing at Asthapad, continue the drive to Yama Dwar. Trek from Yama Dwar to Diraphuk. Return to the guesthouse at Darchen for overnight stay.
Day 07: Zhuthulpuk Trek
Trek to Dolma-La Pass. Thereafter, travel downhill to Zhulthulphuk valley. Return to your guesthouse at Darchen for overnight stay.
Day 08: Hilsa Stay
Board on a land cruiser and drive down to Hilsa. Halt for an overnight stay in the guesthouse at Hilsa.
Day 09: Fly to Nepalgunj – Kathmandu (by flight)
Through helicopter, fly back to Simikot. Thereafter, board a flight to NepalGunj and then reach Kathmandu. The overnight stay will be at a hotel in Kathmandu.
Day 10: Departure
Board a flight from Kathmandu towards your onward journey.
[ Check-out here about Kailash Mansarovar Helicopter Tour Package ]
Special Notes for Pilgrims :
1. In order to overcome any sort of delay, the experts advise to 1-2 extra days.
2. As the nature of travel is possible to cause changes in the schedule. Thus, in such a case, the tour operators and partners are liable.
3. According to the adverse weather condition, the travel operators are also liable to make changes in the said itinerary.
4. Following of the itinerary by the group is also required. The entry as well as the exit has to be at the same time with the entire group and as stated in the schedule.
This tour packages is designed intelligently by the experts to make the devotees enjoy the best ever. The ten days are utilized to excellently make it to be a perfect pilgrim tour.
[ Don't miss-out & have a look on Kailash Mansarovar Tour Packages ]
Related Posts :
How to Plan Kailash Mansarovar Yatra
Things to do at Kailash Mansarovar
Religious Significance of Lake Mansarovar