One of the most sacred pilgrimage sites in India is Badrinath. Located at a height of 3133 m, in Chamoli district of Uttarakhand state, this Sacred Dham was established by Adi Shankaracharya during the 9th Century.
As one of the destinations of Chardham Yatra, Badhrinath Temple is a popular pilgrimage site where, every year, thousands of religious tourists gather here for getting blessed and worshipping deity Lord Vishnu. The holy shrine is built very close to the sacred Alaknanda River.
The temple remains open between the months of October to May. During the winter months, the temple is closed as the location is prone to heavy snowfall. At the entrance of the temple, there is a very colorful gate namely 'Singh-Dwara' which is a magnificent structure.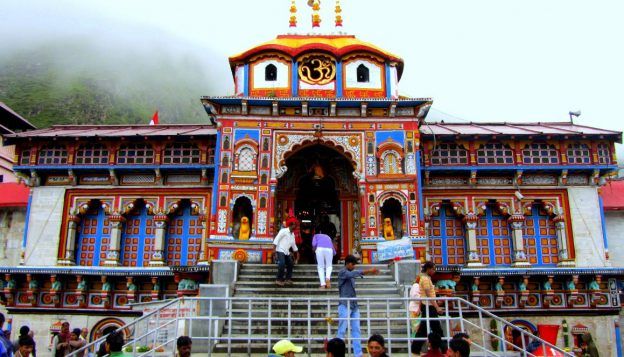 Significance of Badrinath
Badri means a kind of berry which grows in abundance in Badrinath and "Nath" means "of Lord".
 In Bhagwad Gita, the surrounding area of Badrinath is called as Badari which was a location holy to Vishnu.

The sacred Alaknanda Lake, nearby Badrinath Temple is very popular among religious tourists and holds a significant religious importance. It is believed that Goddess Ganga was asked to come down to Earth for the benefit of humanity, but Earth was unable to bear her descent, and Ganga split into twelve sacred channels, Alaknanda being one of them.

I

t is believed that Lord Vishnu used to meditate here while Goddess Lakshmi used to shelter him from the sun by standing next to him. She turned into Badri called as 'BADRI VISHAL' and Lord Shiva became the Badri-Nath (Lord of Nath).

 All the mountain ranges surrounding Badrinath have been named in Mahabharata. It is said that Pandavas died one after one while climbing slopes of Swargarohini peak. On their path to Swarga or Heaven, The Pandavas crossed Badrinath and the nearby Mana town. In mana town, there is a cave, where Ved Vyasa is believed to have written Mahabharata.
In the religious scriptures of Padma Purana, the surrounding area of Badrinath is famous for housing holy possessions.
Major attractions of Badrinath
TaptKund: Tapt Kund, natural spring, with water which is believed to possess curing properties.
Brahma Kapal: Tourists visit this site to perform ceremonies for deceased relatives.
Neelkanth: The peak is named after Lord Shiva and receives the first rays of sunlight every day.
Mata Murti Temple: Mata Murti Temple is a worshipping place for Lord Narayan.
Charanpaduka: In a stunning meadow, surrounded by flowers, lies a huge boulder with Lord Vishnu's footprints.
Narad Kund:  It is believed that this popular Kund recovered the famous idol of Badrinath.
Mana: The village area nearby Badrinath temple called as Mana is a stunning area and surrounded by religious tourists from all over the world.
Bheem Pul: For an adventurous time flushed with religious significance, Bheem Pul near Badrinath Temple is ideal.
Vyas Cave: This is the cave where Ved Vyas used to meditate and told his Mahahbharata to God Ganesha.
Ganesha Cave: The cave which is built naturally is believed to be the site where Ved Vyas wrote Mahabharata.
Sheshnetre: On the opposite bank of the river Alaknanda, in the lap of Nar Parvat, there are two small seasonal lakes. Between these lakes is a boulder having an impression of the legendary snake, Sheshnag. The formation of eye on the boulder is natural.
Panch Shilas: The Panch Dharas are famous in Badaripuri are Bhrigu, Prahlad, Kurma, Indira dhara and Urvashi. Most exciting feature of the Shilas is Indira dhara which is located 1.5 km North of Badaripuri town.
If you are planning to undertake a pilgrimage to Badrinath, then do check out our Chardham Yatra Package by Road and by Chardham Yatra by Helicopter.
Also chek out here, Top 10 temples in India